Makîneya emilandina genê dar bi berfirehî tê bikar anîn da ku genimê dara simulkirî li ser rûyê MDF, plywood û panelên din derxîne, bi bandorek sê-alî ya bihêz.Berhemên darîn ên ku têne çêkirin bi bandorên dîtbarî yên xurt û bi comerdî ne.Ew ji bo nifşek nû ya mobîlya rêbaza dermankirina rûyê bijartî ye.
Cûrbecûr tevnvîs û qalibên dar ên ku ji hêla pargîdaniya me ve hatine pêşve xistin ji hêla makîneya gravurkirina lazerê ya 5-axek CNC ve têne hilberandin da ku kalîte, xebitandin, û xêzkirina xweşik peyda bikin!
Rûyê rûka embossing-ê bi komputerê hatî xêzkirin, û rûberê roller bi kromê hişk hatî pêçan.Germkirin germkirina elektrîkê ya zengila gerîdeyê ya zivirî qebûl dike.
2. Parametreyên teknîkî yên sereke
1. Mezinahiya xwarinê ya herî zêde: firehiya 1220mm, stûrbûna 150mm
2. Kûrahiya embossing ya herî zêde: 1.2mm
3. Rêjeya panelê darikê embossed: 2-150mm
4. Germahiya germkirinê ya herî zêde: 230℃ kontrola germê
5. Rastbûna nîşana germê: ±10℃
6. Leza embossing: 0-15m / min, rêziknameya leza veguherîna frekansê
7. Giraniya makîneyê: 2100㎏
8. Pîvan: 2570×1520×1580㎜
三、Rakirin û hilanîn
Makîneya emboskirinê pakkirina tozê-delîl a hêsan dipejirîne û ji bo barkirin û daxistinê forkliftek bikar tîne.Dema barkirin û barkirin, divê ew bi baldarî were hilanîn û di rêça diyarkirî de were danîn da ku ji pevçûn, gêrbûn û veguheztinê dûr nekevin.Di pêvajoya veguheztin û hilanînê de, pêdivî ye ku hilbera pakkirî neyê guheztin û li tenişta xwe raweste, û bi materyalên gemarî yên wekî asîd û alkalisan re neyê danîn di heman kompartin an depoyê de.
四、sazkirin, xebitandin û xebata ceribandinê
1.Pingê makîneya embossing çar kunên bolt.Piştî ku amûr tê danîn, pêlên berfirehkirinê bikar bînin da ku lingê rast bikin.
2.Pêş ku amûr ji kargehê derkeve, rûn û rûnên rûnê li hemî kêmker û xalên rûnê hatine zêde kirin.Bikarhêner dikare li gorî rêzikên di karanîna rojane de lênihêrîna normal pêk bîne.
3. Operasyona taybetî ya lêzêdekirina rûnê rûnê bi vî rengî ye: qapaxa mezin vekin, qulika dagirtina rûnê û qulika veguheztina kêmkerê vekin, û rûnê gemarê ya Hejmar 32 lê zêde bikin.Bala xwe bidin porta çavdêriyê ya li kêleka kêmkerê.Dema ku asta neftê digihîje bendera çavdêriyê, sotemeniyê rawestînin (di zivistanê de germahiya nizm, vîskozîteya rûnê rûnê bilind, û pêvajoya dirêjkirina sotemeniyê).
4. Bendera derxistina neftê li binê bendera çavdêriyê ye.Dema ku rûnê diguhezînin, pêşî kapika hilmê vekin, û dûv re jî pêça rakirina rûnê vekin.Bala xwe bidinê hêdî hêdî gava ku çuçik tê dakêşandin da ku rûn li laş nerije.
5. Têlên makîneya embossing û dabînkirina hêzê divê hişk û ewledar bin.Pêdivî ye ku têl axê bi zexmî bi stûna zemînê ve were girêdan, û qalikê laşê makîneyê divê baş were zexm kirin.Pêdivî ye ku dorhêla kontrolkirina elektrîkê bi amûrek parastina bargiraniyê ya ku bi motora hilbijartî re têkildar be were saz kirin.
6. Hêza xwe vekin û pêlava çapê dest pê bikin da ku kontrol bikin ka rêwerdana zivirandinê rast e.Pêdivî ye ku baldariyek taybetî were dayîn ku ceribandina ceribandinê piştî têlgirtinê dest pê bike da ku pêşî li şilbûna motorê bigire.
7.Di dema operasyona ceribandinê ya bê-bar û tije-bar de, makîneya embossing bi rêkûpêk dimeşîne, bêyî dengek demkî ya diyar, û neherikîna rûnê rûnê.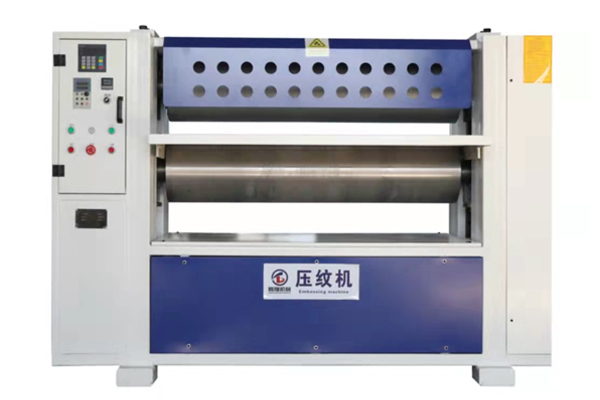 Pênc, bikaranîna hilberînê
1. Divê makîneya emboskirinê piştî nûjenkirina yekem ji bo demekê bêkar bimîne, û piştî ku ew bi gelemperî dimeşe dikare were xwarin.Piştî parkkirina demdirêj, divê ew ji bo demekê bêkar bimîne berî ku piştî xebata normal were xwarin.
2. Pêdivî ye ku materyal hêdî hêdî û yeksan were danîn da ku ji barkirina bandorê dûr bikevin.
3.Di pêvajoya hilberînê de, divê bi qasî ku gengaz be dest pêkirin û xebata zêde barkirinê were dûr xistin.Dema ku makîneya emboskirinê têk çû, divê ew tavilê ji bo kontrolê were qut kirin û jêbirin.
4.Personelên hilberînê divê bi hişkî tedbîrên operasyonê bişopînin (li laşê amûrê binêre) da ku ji qezayên ewlehiyê dûr nekevin.
Karê amadekariyê berî xebata makîneyê:
1. Erdê têl
2. Hêza bi voltaja 380V ya sê-qonaxa sê-têl ve girêdayî ye.Li ser qutkerê sê portên 1/2/3 hene.Piştî girêdana xetê, hêz pêve bibe, û bişkoka manual dê dakeve.Binêrin ka nirxa nîşana bilindahiyê li ser panela xebitandinê zêde dibe, heke hejmar e Heke ew mezin bibe, ev tê vê wateyê ku têl rast e.Ger hejmar piçûktir bibe, hûn hewce ne ku du ji sê têlên zindî yên di 1.2.3-ê de biguhezînin da ku pêwendiyê biguhezînin.Ji kerema xwe gava ku têlan diguhezînin, bala xwe bidin qutbûna hêzê.
Pêvajoya operasyonê ya taybetî:
1. Ji bo pîvandina qalindahiya tabloya darê emelkirî, bi reqemek piştî xala dehiyê (mînak, 20,3 mm) pîvazek vernier bikar bînin.
2. Kûrahiya emilandinê diyar bikin, du qat kûrahiya emilandinê ji qalindahiya tabloyê derxînin (emilandina yekalî yek carî ji kûrahiya emilandinê kêm dike), û dûv re hejmara ku li ser panela nîşana bilindahiyê hatî girtin têkevin, dest pê bike, makîne dê Xweser bi nirxa destnîşankirî rabe.(Mînakî, stûrahiya tabloya dar a pîvandî 20,3 mm e, û kûrahiya emilandinê 1,3 mm e, dûv re 17,7 mm (20,3-1,3-1,3=17,7 mm) têxe panela bilindahiyê û pêl bişkoka destpêkê bike ku dest pê bike. Dema ku nirx digihîje 17,7 mm, hilkişîn Ew ê bixweber bisekine, an jî hûn dikarin bi destan bişkojkê bixin da ku bigihîjin jor û jêr.)
3. Motora sereke dest pê bikin, drum dizivire, û leza daholê dikare bi kilama veguherînerê frekansê were guheztin.Dema ku darê nermtir pêçandin, leza emboskirinê dikare zûtir be, û dema ku dara hişk tê çewisandin, leza emboskirinê dikare hêdî bibe.Leza bi gelemperî tê pêşniyar kirin ev in: 20-40HZ ji bo çam û pola, 10-35HZ ji bo dara gomî, û 8-25HZ ji bo MDF.
4. Germkirin, ger dara gomîkê were pêçandin, pêdivî ye ku ew ji 85 pileya Celsius ne kêmtir were germ kirin, û ji bo tabloyên danûstendinê yên kompakt, pêdivî ye ku ew ji 150 pileya Celsius ne kêmtir were germ kirin.
Nîşe: Berî her emboskirinê, qalindahiya panelê û nirxa dîmendera dîjîtal kontrol bikin da ku pê ewle bibin ku dûrahiya di navbera her du çîpên de kûrahiya destnîşankirî ye.
六 、Parastina û lênêrîna rojane
Berî her destpêkek, divê toza li ser rûbera gerîdeya emboskirinê were rakirin da ku rûyê rûkê paqij bimîne.Platforma xebatê paqij û paqij bihêlin
---
Dema şandinê: Dec-23-2021